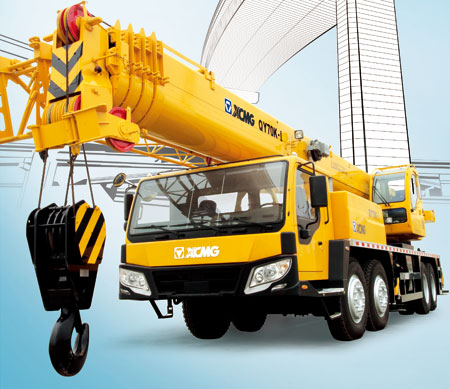 The XCMG QY70K truck crane is a four axle, single engine truck crane. The specifically designed chassis combined with the eco-friendly engine greatly enhances overall driving performance. An octagonal shaped boom made of high strength steel is both light and extra rigidly strong. Specially imported cables and bearings inside the boom make for the most reliable configuration possible. Patented hydraulic system adopts many innovative technologies which can make the machine more energy saving and powerful. A newly designed load moment limiting system in full colour makes the safety of the people first priority.
Get your XCMG QY70K brochure!
Are you interested in knowing more about the XCMG QY70K truck cranes? Our brochure covers all the information you need.

We value your privacy and would never spam you
The innovative jib system adopts embedded block, plug-in boom head and international advanced U section jib, which has excellent lifting performance and safe and reliable lifting work. The unique stretch and retract technique avoids the bend of the core pipe and cylinder and the break of the boom caused by misoperation, improving the safety of the operations. Eight patent techniques ensure the smooth, high efficiency and energy conservation of the lifting, rotation, and luffing systems.The torque limiter adopts colorful LCD display, realizing the intelligence of the failure diagnosis. The precision is ahead of the industry. Adopt the new hydraulic motor with big torque starting point, making the secondary lifting safer. The humanity design makes the cab and control cab more spacious, and easy to operate. Six unique manufacturing technologies ensure the high quality. The working condition expands twice. Newly add 5t counterweight.