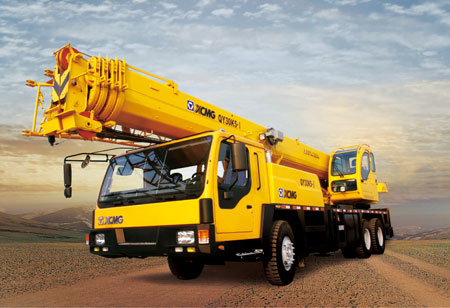 The XCMG QY30K5-I is a three axle, single engine compact truck crane. The specifically designed chassis combined with the eco-friendly engine greatly enhances overall driving performance. An octagonal shaped boom made of high strength steel is both light and extra rigidly strong. Due to double telescopic mechanism the speed and lifting efficiency is much improved. Specially imported cables and bearings inside the boom make for the most reliable configuration possible. Patented hydraulic system adopts many innovative technologies which can make the machine more energy saving and powerful. The newly designed cabin with air-condition and comfortable seat take the load off the operator and make for optimal attention to the work. A newly designed load moment limiting system in full colour makes the safety of the people first priority.
Get your XCMG QY30K5 brochure!
Are you interested in knowing more about the XCMG QY30K5 truck cranes? Our brochure covers all the information you need.

We value your privacy and would never spam you
The XCMG QY30K5-I truck crane is a classical and mature 30t product that XCMG has introduced in 2009. Currently aiming for laws, regulations and environmental features of Russia, configurations are extended for this crane to meets the requirements of different customers. Russian GOST and OTTC certificates are obtained successfully.
Compared with regular QY30K5-I products, system heating facilities are configured to improve low temperature adaptability of the product so that it can better meets the special requirements of different regions. Meanwhile the configuration of Euro IV engine meets the requirements for emission standard in Russia region.
Full dimension, large visual field, luxurious driver's cab and new operator's cab are adopted in QY30K5-I, the whole vehicle has beautiful outline; five-section boom of octagonal cross-section and double cylinder rope system make it have compact structure and reliable telescoping movements.