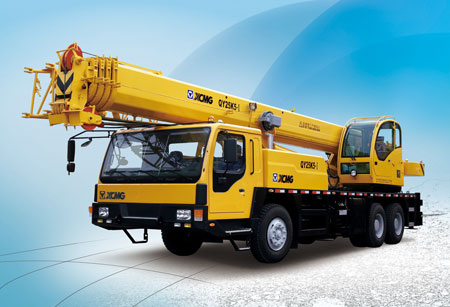 The XCMG QY25K5-I is a three axle, single engine compact truck crane. The specifically designed chassis combined with the eco-friendly engine greatly enhances overall driving performance. An octagonal shaped boom made of high strength steel is both light and extra rigidly strong. Due to double telescopic mechanism the speed and lifting efficiency is much improved. Specially imported cables and bearings inside the boom make for the most reliable configuration possible.Patented hydraulic system adopts many innovative technologies which can make the machine more energy saving and powerful. The newly designed cabin with air-condition and comfortable seat take the load off the operator and make for optimal attention to the work. A newly designed load moment limiting system in full colour makes the safety of the people first priority.
Get your XCMG QY25K5 brochure!
Are you interested in knowing more about the XCMG QY25K5 truck cranes? Our brochure covers all the information you need.

We value your privacy and would never spam you
XCMG is constantly devoting themselves to the development of new cranes by applying the latest techniques. The new products will have strong functions and be more adaptive to the customers. QY25K5 truck crane was developed by the XCMG company in 2000. Through constant upgrade, the travel and working performance are greatly improved. The chassis is three-axle which has strong power and cross-country capacity. The jib is optimized octagon section, which has excellent lifting capacity. The control system adopts hydraulic proportional (mechanical) control technique.