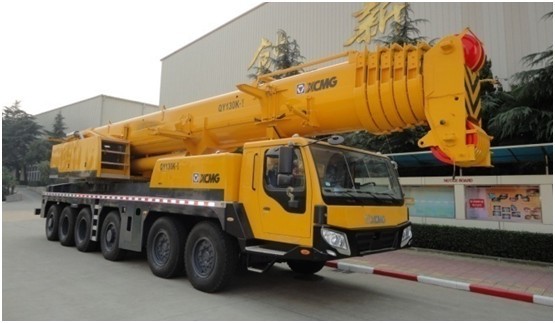 QY130K Truck Crane is a special crane targeting at the installation, inspection and repair work in large petrochemical projects. The vehicle adopts specialized 6-axle chassis for truck crane and two-stage outrigger structure. Accurate multi-axle steering, with mechanical, electro and hydraulic integration applied, and emergency brake technology contribute to the excellent traveling performance.
QY130K-I Truck Crane is a product specially made for Russian areas, with expanded configuration to fulfill Russian regulations and environmental characteristics.
Compared with conventional QY130K-I product, this product is provided with system heating equipment to strengthen its low-temperature adaptability. Various options are available for users. Meanwhile an engine compliant with Euro IV emission standard is fitted to meet the emission standard and requirements in Russian areas and get Russian GOST and OTTC certificates.
1. Optimization of structural members
The technique of finite-element analysis is fully adopted in the design of major structural members such as frame, outriggers and boom etc. The design of structural members is in accordance with topological forms, contributing to stress even and equal distribution.
2. Emergency steering system improves driving safety
An emergency steering pump is fitted on the transfer box, which realizes vehicle steering action in engine trouble or in towing state, so as to guarantee normal traveling and improve driving safety. Moreover, steering mechanism is optimized and tire wear is reduced.
3. Optimized electric control ensures system reliability
Overload protection devices are adopted to manage the power source and improve electric control technique so as to ensure system reliability. A GPS connector is available for remote control and diagnosis. New type of reset fuse link technique can automatically cut off protection circuit to prevent electric parts from burning when the current in circuit is too large. It can be used repeatedly to avoid frequent replacement and at the same time eliminate the problem that fuse base in control box is vulnerable to burning.
4. Leaf spring equalizing suspension technology applied for multi-axle vehicle improves vehicle pass-ability
Multi-axle vehicle leaf spring equalizing suspension technology is applied to solve the problem that propelling system and leaf spring components are vulnerable to damages when axles bounce up and down. The innovative equal-arm balance beam and parallelogram propelling rod keep the translation motion of axles so as to ensure the reliability of propelling system and balance of each axle. Diagonally set parallelogram propelling rod can bear and buffer lateral acting force, realizing the function of transmitting applied forced and alleviating vibration. By these means, the distance of wheel bouncing reaches the level of an all terrain truck crane, providing the vehicle with good pass-ability.
5. Integration of auxiliary brake modes prolongs brake service life
Auxiliary brake of the truck crane consists of engine exhaust brake and engine in-cylinder brake. In hill driving, retarding and constant speed driving can be easily realized, and axle hub heat resulted from braking can be prevented so as to prolong brake service life and greatly improve the safety and comfort of driving.
6. System configuration for extremely cold areas
1) Engine system:
Electric heating is added to the engine oil water separator so as to guarantee fluent oil flow. An additional heater is fitted to heat engine water via its heat exchange function, so as to increase engine temperature and make the low-temperature adaptability reach -35 ℃.
2) Two cabs:
New type of structure is adopted for driver's cab, paying great emphasis on heat preservation and heating performance. Parts like heat insulating cloth and sound absorbing cloth are fitted inside the interlayer of driver's cab, which not only improves warmth retention of driver's cab but also reduces noise inside the cab and provide users with a quiet driving environment.
Operator's cab is fitted with an additional stereoscopic air passage and fuel oil heater to boost the power of air conditioner and meet the low-temperature requirements in Russia area.
7. There are also ABS antilock brake system and GPS connector available. Moreover, tires, lamps, and glass etc. are all provided with E-mark identification, meeting the requirements for certification in Russian area.
Classificatory
Item
Unit
Parameter
Outline dimension
Overall length
mm
14950
Overall width
mm
3000
Overall height
mm
3950
Axle base
Axle 1, Axle 2
mm
1420
Axle 2, Axle 3
mm
2420
Axle 3, Axle 4
mm
1875
Axle 4, Axle 5
mm
1350
Axle 5, Axle 6
mm
1400
Wheel base
mm
2610/2307
Mass
Total mass in travel state
kg
62000
Axle load
Axle 1, Axle 2
kg
8800/8800
Axle 3, Axle 4
kg
9200/12700
Axle 5, Axle 6
kg
12700/9800
Power
Crane  superstructure engine
Rated power
kw/(r/min)
162/2100
Rated torque
N.m/(r/min)
854/1400
Rated speed
r/min
2100
Crane carrier engine
Rated power
kw/(r/min)
390/1800
Rated torque
N.m/(r/min)
2400/1080
Rated speed
r/min
2000
Travel performance
Travel speed
Max. travel speed
km/h
70
Min. stable travel speed
km/h
2.1
Min. turning diameter
m
24
Min. ground clearance
mm
275
Approach angle
(°)
23
Departure angle
(°)
14
Braking distance (at 30km/h)
m
≤ 10
Max. grade-ability
%
40
Fuel consumption for 100km
L
80