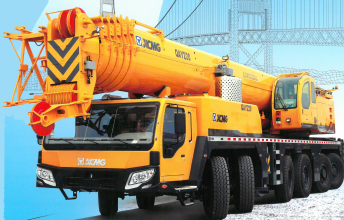 The XCMG QAY220 is a six axle crane and it is equipped with superstructure engine and under carriage engine. These engines are EUROIII standard. The specifically designed chassis combined with the eco-friendly engine greatly enhances overall driving performance. An octagonal shaped boom made of high strength steel is both light and extra rigidly strong. Specially imported cables and bearings inside the boom make for the most reliable configuration possible. Patented hydraulic system adopts many innovative technologies which can make the machine more energy saving and powerful.  A newly designed load moment limiting system in full colour makes the safety of the people first priority.
Get your XCMG QAY220 brochure!
Are you interested in knowing more about the XCMG QAY220 all terrain cranes? Our brochure covers all the information you need.

We value your privacy and would never spam you